NOTE: This feature is not available for all ProSeek installations
While viewing a newspaper page through the ProSeek Viewer, a user can click the 'Edit this page' link (located in the lower left-hand corner) to launch the editing tool.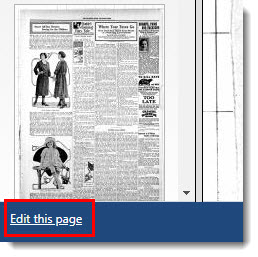 Once selected, you will be asked to Log in by submitting your user name and password before you can use the application.
Log in/out | Top OCR Correction Users Scorecard
Browse | Viewer | Search | Map Search | Print | Audio Files | Text Correction | User Annotation
---
© NMT Corporation - All rights reserved.