ProSeek lets you search one collection, several collections or all the collections in your digital library, including audio files. You can conduct a broad search or a more narrow search depending on your needs. Additionally, you can save and manage your searches. Generally, you'll follow two steps when you conduct a search. To maximize the effectiveness of your searches, review ProSeek's Search Tips.
When you first come to the Search page, you'll see this screen:

From this screen, you can
1.choose the collection or collections you want to search
4.finalize the search for the terms you've entered
5.save and manage your searches
After you click the Search button (#4 in the image above), your search results will be displayed. Once displayed, you will have a number of format and display choices. From the search results screen, you can: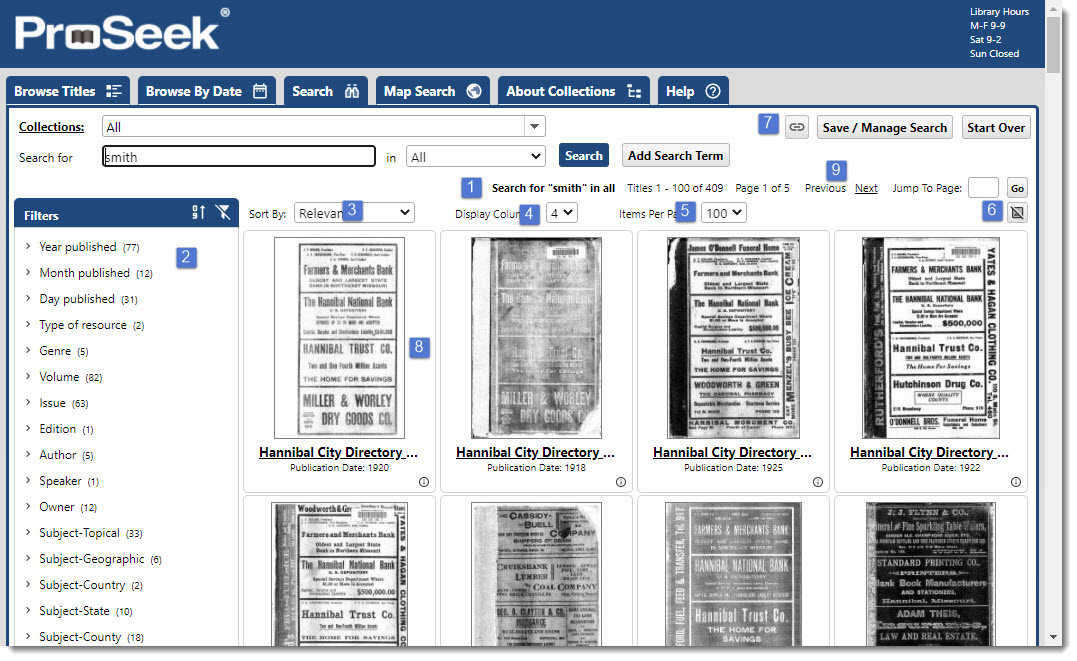 1.see the number of hits your search has found and how many are displayed on your screen
2.narrow your search by using Search Filter Categories
3.choose how you want the results sorted
4.choose the number of columns to be used when displaying the results
5.determine how many titles will be displayed on each search results list
6.choose whether to show the thumbnail images or text images of your results
8.click on a title or thumbnail to open the title. The title opens in the Viewer to the page containing the most relevant matches to your search terms
9.Navigate to a different page of search results
To listen to an audio file, see Audio Player.
To maximize the effectiveness of your searches, review ProSeek's Search Tips.
Browse | Viewer | Search | Map Search | Print | Audio Files | Text Correction | User Annotation
---
© NMT Corporation - All rights reserved.