Once you've completed a search, the Search Results page will appear. This page provides a list of documents found in your most recent search. Additionally, on the right side of the screen, the page displays the search term, the total number of search results, and the number of results being displayed on the current page.
By default, the Search results are displayed in order of relevancy. To change this
1.Click on the downward arrow in the Sort By field located on the left of the screen, above the results list. A drop-down menu of sorting options will appear.
2.Click on your choice of sorting options. The list will resort itself.
You may also change the number of Display Columns or the number of Items displayed on this page.
1.Click on the downward arrow in the Display Columns or Items Per Page field.
2.Click on the number of columns/items you would like displayed. The page will reorganize itself.
You may also filter your search results using the Search Filter Categories.
To view a document:
1.Click on the thumbnail image or title text to open the object. The document opens in the Viewer to the page containing the most relevant matches to your search terms.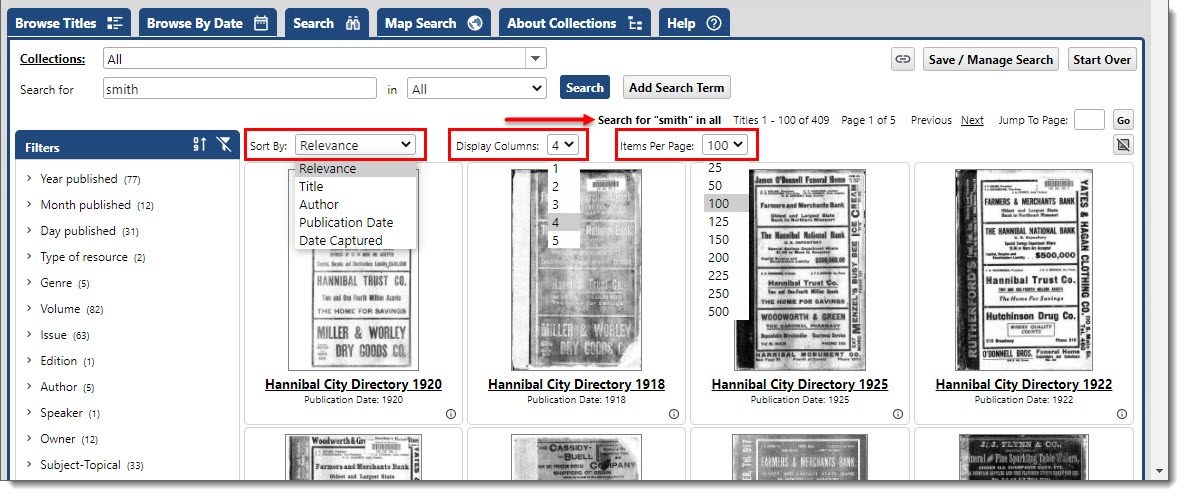 To listen to a file, see Audio Player.
Browse | Viewer | Search | Map Search | Print | Audio Files | Text Correction | User Annotation
---
© NMT Corporation - All rights reserved.