The Browse Titles page displays the list of books, newspapers, photos, audio, etc. that make up the library's collection. This listing includes the titles of the materials, thumbnail images of the first pages of the materials as well as other information such as publication dates and authors.
From the Browse Titles page, you can open a title in the viewer or audio player by clicking on the title.
There are three major sections within the Browse Titles page. In Section 1, Collection Choices, you choose which collection(s) you wish to browse. In Section 2, Browse Categories, you choose categories to narrow the browse results. In Section 3, Browse Results Display, you can view your results and manage how those results are displayed.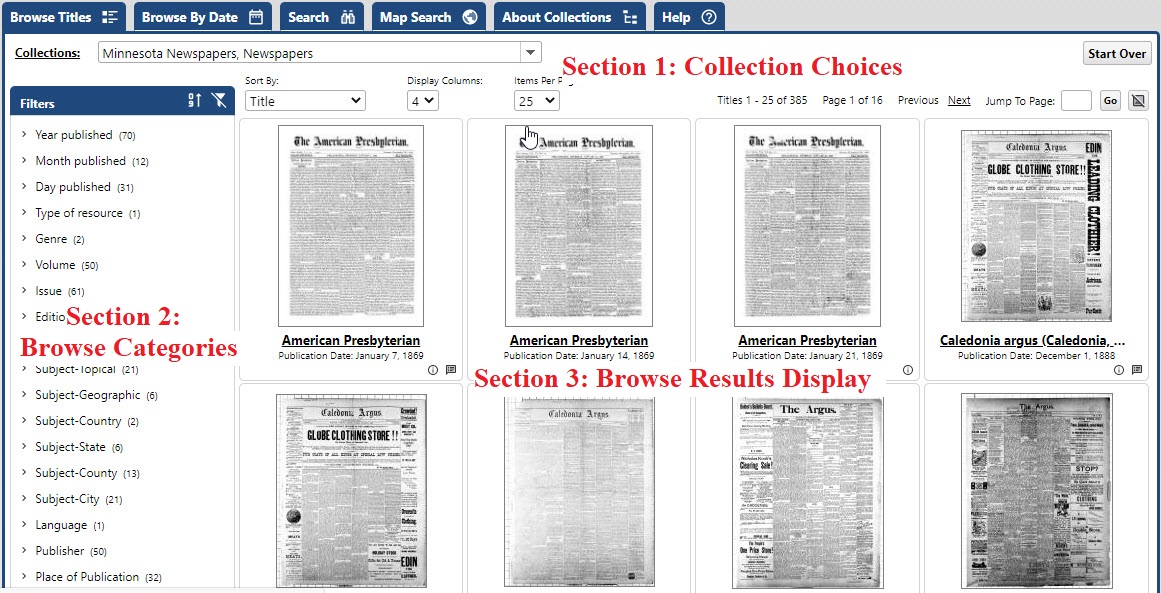 For titles that use a full publication date in their metadata (year/month/date), you may also Browse by Date. This is especially useful for newspapers and magazines, but may be available for other titles.
Browsing by Titles
To browse by titles, you must first choose a collection or collections to browse. After you've chosen a collection or collections, you can further refine your browsing by choosing a category for filtering your browsing. You can also manage how your results are displayed.
Viewing the Titles
Finally, you can click on the title's thumbnail or title to open it to its first page in the Viewer. If the title is an audio file, you will be taken to the Audio Player page.
Browse | Viewer | Search | Map Search | Print | Audio Files | Text Correction | User Annotation
---
© NMT Corporation - All rights reserved.