ProSeek lets you listen to audio files in your library's collection through its Audio Player whether you chose the file from the Browse Page or from the Search Results Page.
To open an audio file from the Browse Page, simply click on the file you want to listen to. An Audio Player tab will open and reveal the ProSeek Audio Player.
Top Toolbar
On the Top Toolbar, you'll see (1) the title of the audio you've chosen. To the right, you'll see the (2) View Transcription Text icon, a (3) search field into which you may type search terms, and (4) the Search icon you click to complete the search.

Audio Track
When you first open the Audio Player, the audio track will be in gray. As you play the audio, the gray turns to blue to indicate you've heard that part of the audio file. Clicking anywhere within the audio track will advance the audio to the selected location.

Audio Player Tools
You'll see the audio player tools under the audio track.

You use this like any web-based audio player.
1.Click on the arrow to the far left of the audio player bar
. The arrow changes to parallel bars:

. Your audio is now playing.
2.Click on the parallel bars

to stop the audio.
3.To mute the audio, click on this icon

found to the right of the audio play bar.
4.Click on the three vertical dots

on the far right to download the audio file.
The audio player tool bar also shows the time and duration of the video clip.
Search within the File
If you want to search within the file you have opened,
1.Type in your search term in the search term field on the far right of the Top Toolbar
2.Click on the Search Icon

or hit the Enter key on your keyboard.
3.Your search term and then number of hits will appear on the Top Toolbar.
4.Your search terms, along with a time location and nearby text, will appear in the Audio Text just below the Top Toolbar.
5.Click on the time location in which you are interested to listen to that part of the audio. Note that when you click on the time location in the text area, the arrow under the audio track at that time location will move up and down to show you the audio track location of your choice.
NOTE: If you would like to select and copy the full transcript, click on the View Transcription Text icon

. Instructions on using the Copy Text function can be found at Copying Audio Transcript.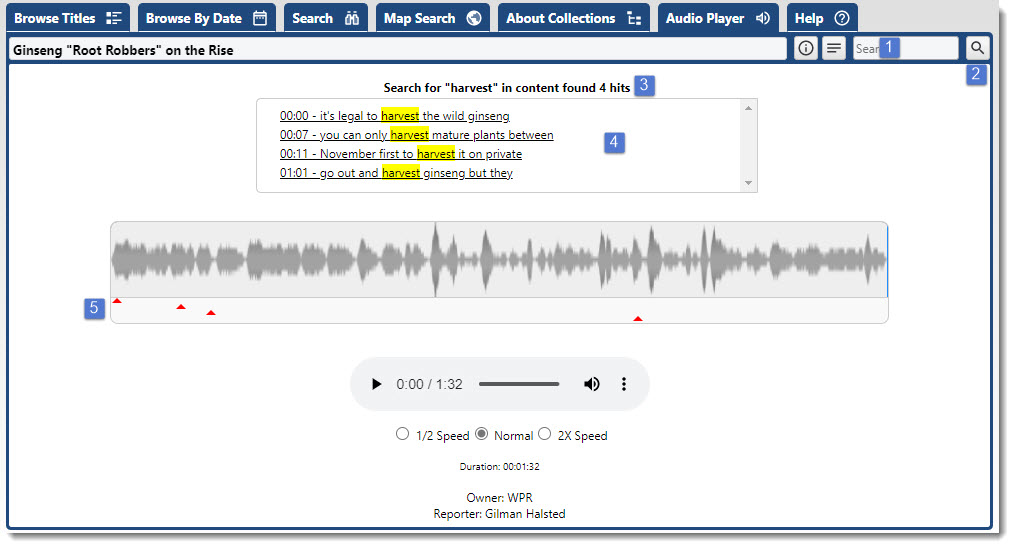 Browse | Viewer | Search | Map Search | Print | Audio Files | Text Correction | User Annotation
---
© NMT Corporation - All rights reserved.